Golf
Eco Friendly Real Estate Comporta Portugal: Golf
Nature and sports in complete harmony
The perfect backdrop for the perfect shot. At Terras da Comporta, tranquility and natural beauty are your greatest allies on the green. Accept the challenge and discover for yourself, always in great company. Professional or just passionate. Profound connoisseur or simply curious. The first time or a comeback. Everyone is welcome, because golf is the sport of a lifetime and for life. On the stunning Portuguese coast, where the climate is mild all year, every day is a good day for a round of golf. After all, Portugal is one of the best destinations in the world for golf lovers. Let yourself be seduced by our Alentejo, where seemingly eternal time awaits you.
Click or drag sideways to explore the materials




Two courses, one challenge
Two opportunities to exceed yourself, just an hour away from Lisbon. In the heart of Comporta, near the impressive Alentejo coast, two courses at your disposal.
Designed by prestigious golf architects, Torre and Dunas will each have their own 18-hole course. The perfect harmony between the knowledge of renowned professionals and the sublime landscape of Comporta.
Dunas:
18 holes
38,4 hectares
Clubhouse for conferences and congresses
Designed by David McLay-Kidd

Need more information?
DUNAS GOLF COURSE, COMPORTA, PORTUGAL

 

Golf is a sport brought into existence along the rugged coastline of my country of birth, Scotland. Played over the sandy dunes that fringe the beaches, where the breezy constantly blows, this is what we call Links Golf. As golf has circled the globe it never finds a better home than along sandy shores, like those at Comporta. Sand and Sea are the fundamental ingredients to great golf, just look at any list of the best courses in the world, from St. Andrews to Pebble Beach, the sand, the breeze and the shoreline are the elements man cannot create, they have to exist naturally.

Golfers yearn to play beautiful, natural, uncontrived courses, that's why Links golf is golf at its best, and Dunas is true Links Golf, unique in Portugal, unique throughout southern Europe. For golfers that know Links this will be a 'must play' golf course for those that don't it will be a new experience, an awakening of what golf is meant to be.
Torre:
18 holes
41,4 hectares
1st large golf academy of Portugal designed by 2 Masters champions – Jose Maria Olazabal (Olazabal Design) and Sergio Garcia 
TORRE GOLF COURSE, COMPORTA, PORTUGAL

 

Let me use this opportunity to thank Jose Botelho and the whole team at Vanguard Properties for the chance to design the golf course for the magnificent Comporta Torre development. As one of Portugal's leading luxury developers, Vanguard stands for top quality at highest international standards. And this is exactly what we will be aiming to deliver on the spectacular property which Vanguard has given us for the golf course. We have already completed the design planning and are very excited to get going with construction and to bring our vision to life. Stay tuned.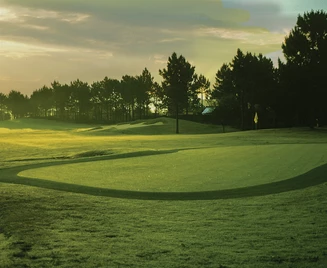 Side by side, present and future
At Terras da Comporta, the greatest commitment is to sustainability. Since day one. Golf is no exception and, for that very reason, it was conceived and planned with special attention.
A strong investment in a computerized irrigation system, ready to be supplied by our WWTP. The use of products that will not harm the environment. The training of our team, to follow the best environmental practices. These are some of the measures taken to minimize the environmental impact of our golf courses.
The choices we make today, contemplate tomorrow.

Golf Academy
For all ages and for all physical conditions. For those who are just starting or for those who want to improve, golf is for sports lovers.
We offer the desired environment and provide access to a set of excellent facilities. From the very first swing, coaching is provided by a specialized team of professional teachers. From beginner to advanced, without forgetting intermediate. There's time for everything and for every player.

Corporate events
Out of office, out in the open air. Business and pleasure meet, in the middle of the golf course. Between swings and shots, ideas are shared, opinions are exchanged and professional relationships are valued. The Terras da Comporta Tournaments provide the right moment for that important handshake.