Golf
Eco Friendly Real Estate Comporta Portugal: Golf
The Right Swing
Between a dip in the sea and a horse ride, get some time in on the green. This is a sport of simplicity and elegance, combining dexterity and calm pace. Come and appreciate a sport full of history which is present here at Comporta.
Click or drag sideways to explore the materials





Two fantastic golf courses just an hour from Lisbon
Dunas and Torre will both have their own 18-hole golf course designed by some of the most internationally renowned golf architects. Designed to host any kind of professional tournament while providing a stimulating challenge for any amateur.
Dunas:
18 holes
38,4 hectares
Clubhouse for conferences and congresses
Designed by David McLay-Kidd

Need more information?
DUNAS GOLF COURSE, COMPORTA, PORTUGAL

 

Golf is a sport brought into existence along the rugged coastline of my country of birth, Scotland. Played over the sandy dunes that fringe the beaches, where the breezy constantly blows, this is what we call Links Golf. As golf has circled the globe it never finds a better home than along sandy shores, like those at Comporta. Sand and Sea are the fundamental ingredients to great golf, just look at any list of the best courses in the world, from St. Andrews to Pebble Beach, the sand, the breeze and the shoreline are the elements man cannot create, they have to exist naturally.

Golfers yearn to play beautiful, natural, uncontrived courses, that's why Links golf is golf at its best, and Dunas is true Links Golf, unique in Portugal, unique throughout southern Europe. For golfers that know Links this will be a 'must play' golf course for those that don't it will be a new experience, an awakening of what golf is meant to be.
Torre:
18 holes
41,4 hectares
1st large golf academy of Portugal designed by 2 Masters champions – Jose Maria Olazabal (Olazabal Design) and Sergio Garcia 
TORRE GOLF COURSE, COMPORTA, PORTUGAL

 

Let me use this opportunity to thank Jose Botelho and the whole team at Vanguard Properties for the chance to design the golf course for the magnificent Comporta Torre development. As one of Portugal's leading luxury developers, Vanguard stands for top quality at highest international standards. And this is exactly what we will be aiming to deliver on the spectacular property which Vanguard has given us for the golf course. We have already completed the design planning and are very excited to get going with construction and to bring our vision to life. Stay tuned.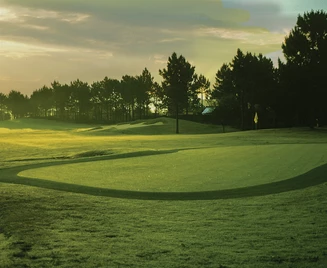 A commitment to sustainability
Since sustainability is one of the critical factors at Terras da Comporta, golf was targeted with particular attention in this respect. 
Among the measures taken to minimise the environmental impact are the choice of a low water consumption green and the implementation of a sophisticated computerised watering system supplied by water from ETAR.

Golf Academy
Become a golf beginner and have fun learning a new sport.
If you've already had some experience, but fancy improving your game, you can raise your swing or back-swing